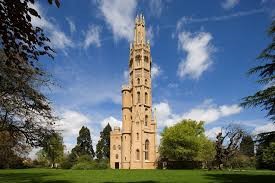 THE BECKFORD SOCIETY
VISIT TO HADLOW TOWER
THURSDAY 29th SEPTEMBER
Hadlow Tower, or May's Folly as it is affectionately known, once formed part of a grand Romantic Gothic house built in the late 18th and 19th centuries for Walter May, a yeoman farmer. The tower at Hadlow was started in 1838 by May's son, Walter Barton May, to a design by George Ledwell Taylor and bears a striking resemblance to that of Fonthill. Built of brick and rendered with Roman cement, it is 175 feet high, commanding the local landscape.
In 1951 the main house was demolished for building materials, but a portrait painter Bernard Hailstone purchased the tower and saved it from demolition. The future of the tower was threatened following storm damage in 1987. It was on the World Heritage Fund at risk register, but saved and restored by the Vivat Trust after a campaign by the Save Hadlow Tower Action Group. Vivat converted the tower to provide holiday accommodation. Last year the trust went into receivership and the tower is now for sale.
The Tower is open to the public on Thursdays until the end of September, and we felt that members might like the opportunity to visit this building which has been described as 'The Fonthill of Kent'.
Our visit will be on THURSDAY 29 SEPTEMBER at 2.30pm. Admission tickets cost £4.
Please let me know, if you would like to take part in this visit.
SIDNEY BLACKMORE
sidney.blackmore @btinternet.com
Hadlow is about 3 miles NE of Tonbridge.
More information about Hadlow Tower can be found on the tower's website www.hadlowtower.com